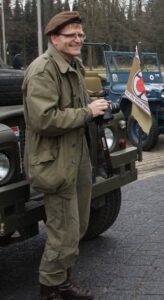 Op 8 mei 2023 bereikte ons het droevige bericht dat ons clublid Timo Pronk is overleden.
Timo behoorde tot de eerste leden van onze vereniging en was al die jaren een trouwe bezoeker van onze evenementen en praatavonden. Hij leefde voor de groene hobby en is daardoor een bekend gezicht geworden in het circuit van militaire voertuigeigenaren.
Naast clublid was Timo vele jaren voorzitter van Stichting War-Horses, totdat zijn gezondheid hem daartoe niet langer in staat stelde. De hechte band tussen F.M.V. The Green Sparks en Stichting War-Horses hebben wij mede aan Timo te danken.
Met het heengaan van Timo verliezen wij een trouw en gewaardeerd lid en wij zullen hem dan ook zeer missen.
Wij wensen zijn familie en vrienden heel veel sterkte toe bij het verwerken van dit grote verlies.
Bestuur F.M.V. The Green Sparks
Friends of Military Vehicles "The Green Sparks" (afgekort: F.M.V. The Green Sparks) is officieel opgericht op 18 april 2007. De vereniging heeft als doel, het verzamelen, restaureren, rijdend houden en aan het publiek tonen van militaire voertuigen die door de krijgsmachten buiten gebruik zijn gesteld. In dat kader organiseert zij jaarlijks een aantal ritten en verleent zij medewerking aan evenementen van derden door middel van 'static shows' e.d.
Alle voertuigen zijn particulier bezit en worden veelal door de leden zelf gerestaureerd en onderhouden. De voertuigen binnen onze vereniging zijn niet aan een bepaalde historische periode gebonden. Ons voertuigenpark varieert dan ook van voertuigen uit de periode 40-45, de Koude Oorlog en van nadien.
Onze vereniging telt inmiddels circa 75 leden, waarvan het merendeel woonachtig is op de Veluwe, in de Gelderse Vallei en regio Eemland. F.M.V. The Green Sparks is aangesloten bij de Federatie Historische Automobiel- en Motorfietsclubs (FEHAC).
Nieuwe leden zijn van harte welkom !
Heeft u nog vragen of bent u geïnteresseerd in het lidmaatschap, twijfel dan niet en neem s.v.p. contact op met de secretaris van de vereniging.
F.M.V The Green Sparks, al 15 JAAR de militaire voertuigenclub voor de Veluwe, Gelderse Vallei en Eemland. 
CLUBEVENEMENTEN ZIE AGENDA